Wolf Tracking in Sweden
Anna Lundberg goes Wolf Tracking in Sweden. Adventure is Out There: Beavers and mooses and wolves, oh, my.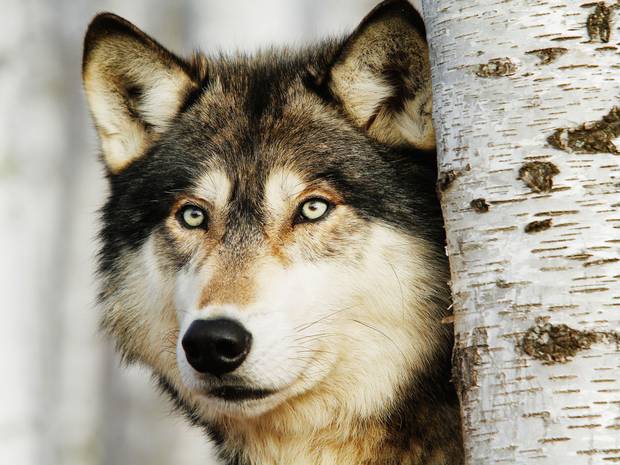 I was joined by my friend Serena from Geneva and we had chosen this particular adventure for its headlining act: tracking wolves. We're about to launch an online training business called Wolf Leaders Academy and it felt like the perfect activity both to celebrate the launch and to actually learn more about the behaviour of wolves, on which we had based our concept of leadership. So it was that we flew to Stockholm, rented a nice little Volvo, and drove 2.5 hours west to spend the weekend with a group of strangers in the middle of the forest.

Practicing the art of wood chopping in the event of a zombie apocalypse. Well, I can't skin a rabbit so I'd better be good at something…
We were staying in Kolarbyn Eco-Lodge, "Sweden's most primitive hotel". There was no electricity or running water, we would be cooking over an open fire, and our accommodation consisted of simple huts with space for two "beds" and a little fireplace. Despite the basic set-up, the level of comfort was far beyond my expectations. I slept incredibly well in our little hut – I was shocked to find that it was 10.30am when I emerged from the darkness on the Saturday morning, and I had a similar lie-in on the Sunday; far better than any sleep I've had before while camping – and the group raised the bar for campfire cooking with home-made pancakes and a continuous supply of freshly brewed coffee on the open fire. What an idyllic picture, so far from our day-to-day existence: sleeping out in the forest, picking berries for breakfast, chopping wood for the fire….

The little huts reminded me of old Elsa Beskow stories that were read to me when I was little (Petter, Lotta och kolaren – for the Swedes among you!).
Although Serena and I had come for the wolves, this was actually just a small part of the schedule for the weekend. Our first evening was spent tracking… beavers. My only knowledge of this particular animal came from Mr and Mrs Beaver in the Narnia books, and I was pretty sure that C. S. Lewis had taken some artistic licence in describing these magical creatures who could talk and were obsessed with sewing machines. We drove out to an abandoned manor house (for sale for just 12 million crowns – including 50 bedrooms and a boathouse, in case you're interested) where we examined the various traces left by the local beavers on land before having dinner out in the grounds. We then headed out onto the water to see if we could get up close and personal with some beavers.
We spent several hours travelling silently across the lake (the boats had electric engines) as the sun set behind the trees and an almost-full moon rose up to take its place. Eventually we were rewarded with several sightings of beavers swimming alongside our boats, crawling out onto land and even a couple playing together.

Luckily we didn't have to resort to chewing through the trees as we were well fed with wild boar wraps and homemade cinnamon buns. Yum.
On the second night, we turned our attention to a slightly larger animal, the moose (or is it an elk?). We hiked through the forest as quietly as we could – which, as it turns out, was not very quietly at all, with twigs snapping under our feet and branches scratching across our Gore-Tex jackets. In fact it's very difficult to spot moose and other wild animals during the day and we started to have better luck as the sun was setting. Markus, our guide, had a clever technique, which was to shine a bright searchlight into the edge of the forest, the eyes of the moose reflecting back the light making them easy to spot. We saw several moose bulls, a cow and a calf, a couple of hares, roe deer and possibly even a lynx. A real Swedish forest, full of trolls and pixies and, probably, Mumins too.
I can't say I've ever really engaged on the topic of hunting and wildlife diversity but I found this intricate debate about hunting and breeding and immigration in the animal kingdom very interesting (as well as topical with the recent outrage at the shooting of Cecil the lion, with Markus even drawing parallels to the debate around human immigration). Markus could argue both sides of an argument, highlighting different pros and cons and demonstrating the difficulty of finding a solution that works on every level.
As midnight approached, so too neared the climax of the animal tracking: we would be climbing up into the forest onto a hill under the moon – a full moon, no less – where we would settle down and await the howling of the wolves. As with all wild animals, there was no guarantee that we would hear anything at all; a wolf pack's territory stretches as far as 10,000 square kilometres, they could have moved since they were last tracked in the area, and they only howl to each other maybe a couple of times in one night, for less than a minute at a time. So there we sat, looking up at the night sky and listening in anticipation for what might never come; two shooting stars made the experience all the more special for me as I waited. But then we heard it: a couple of howls that sounded like they were right next to us in the trees – in fact, it was Markus, who was resorting to calling out to the local wolf pack to see if they would respond – followed by the real thing, a little further off, as the wolf pups and then the alpha male howled back at us. I half expected the werewolves and vampires of Twilight to come bounding out of the forest at any minute.
We ended the night with a little campfire under the full moon and, of course, a cheeky little skinny dip in the lake – this is Sweden, after all. (Having said that, it was my first, so I'm pretty proud of having been the pioneer on this occasion!) It was completely eye opening for me and, at times, hilarious to see this whole experience through the eyes of an Italian. While I was warm, poor Serena was shivering and getting allergic reactions to the mosquitos. For a Swede, who's spent all her summers in this mild climate, this is as good as it gets: sunshine and a water temperature as high as 20 degrees. For an Italian, used to the Mediterranean heat and a clear blue ocean, I now see that this is not such a typical experience!
On the third and final day, we took the canoes out onto the lake for a bit of a paddle. Serena and I soon realised that getting back to the starting point would be tough with a strong wind and current working against us so we started back almost as soon as we had reached the other end of the lake; at one point I swear we were just standing still, despite our best efforts at propelling the boat forward! When we finally returned and got the canoe back on land, we rewarded ourselves with a couple of rounds of relaxing in the floating sauna alternated with, at least in my case, some swimming in the lake.

For me, this weekend only served to reinforce my love of my native country and contributed another advantage to my list of the pros of living here. Heja Sverige! Well done on another excellent adventure.